Find Camp by Name
Kwayakotage Ministries
Camp Address
773 Rue Dufferin
Stanstead, QC J0B 3E0
Phone: (819) 704-0579
Camp Phone: (819) 704-0579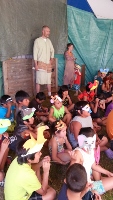 Description and Mission
Our mission is to present hope and purpose in a relational community. We value the power of a story to communicate truth. It all started in KZ (Kitigan Zibi) in 1998 when the late Eleanor Cote asked La Macaza Prison Chaplain Mark Dana and his wife Ruth Anna to host a children's day camp at her family farm.
Program Information & Activities Offered
Our caring team enjoys group games, Bible stories, music, arts & crafts, swimming, canoeing, and archery. Our well-trained team of volunteers can set-up for 100 kids in a single day. Throughout the years, the location of our children day camps have varied depending on the invitations we have received.
Facility Information
We are a mobile camping ministry. We move the camp to the Native Communities. We have run day camp for the communities of Kitcisakik, Rapid Lake, Manawan, Odanak, and Kitigan Zibi since 2006.
Umbrella Organization
Northern Canada Evangelical Mission Inc.