Find Camp by Name
Marsh Lake Bible Camp
Mailing Address
2060 2nd Ave.
Whitehorse, YT Y1A 1A9
Camp Address
62 Swan Haven Drive
Marsh Lake, YT Y1A 1A9
Phone: (867) 667-4889
Camp Phone: (867) 660-4044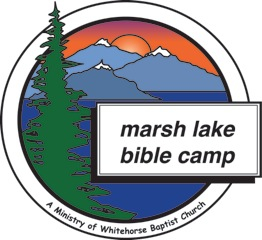 Description and Mission
As a ministry of Whitehorse Baptist Church, Marsh Lake Bible Camp carries out the mission, To Serve and Glorify God. Through caring relationships, fun activities, and time in Gods creation we:

- Equip believers through opportunities to use and grow their gifts,
- Intentionally evangelise the lost, and
- Joyfully express Christs love and grace through service to one another and our community.
Program Information & Activities Offered
Every year many campers take part in our four weeks of camp. We also have numerous other retreats and events throughout the year for all ages, such as Youth, Ladies and Family Camps.
Facility Information
Marsh Lake Bible Camp is a volunteer Christian camp owned by Whitehorse Baptist Church, situated on 6.2 acres of lake front property. The camp is located on the shores of Marsh Lake approximately 50km from Whitehorse, Yukon, Canada.
Umbrella Organization
Whitehorse Baptist Church